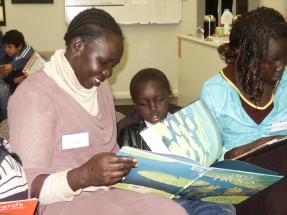 The public library has a supportive role, strengthening partnerships with both whānau and schools, sharing knowledge, providing a diverse range of quality resources and fostering lifelong learning.

The programme challenges the traditional public perception of libraries, raising their profile as an invaluable, non-threatening "vibrant" community resource accessible by all.

The programme provides a forum for sharing ideas - the parents know that they are not alone and there are places to go to for help and support.

A good opportunity to revisit the challenges we face, gave us a shot of enthusiasm for finding solutions and improving our services.

Being involved in the workshops refreshed our awareness of problems parents face with the children's reading and skills to help.

The contact with parents and teachers was beneficial.

Put us in touch with the Resource Teachers of Literacy service and a new set of parents we may be able to help.

The parents seemed more confident by the end of the programme and things seemed to have improved with the children, who were more keen to read - parents were realising that they could make a big difference to how their child learns and progresses.

We would like to be involved in future workshops because this has been a very valuable experience that allows us to strengthen links with the community and enables us to identify parents and children in need of help.